Calm After the Storm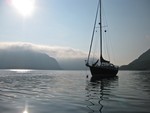 Calm After the Storm. Photo by Jim Lawless.

August 25, 2011

Jim Lawless sent in this photo of his sailboat, Spinache, at anchor in Cornwall Bay last Saturday.

Click on the photo for a larger view.




Comments:
Jim - Beautiful backlit image, good composition and great light
Add a Comment:
Please signup or login to add a comment.