St. John's New Steeple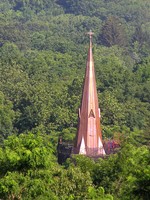 St. John's Steeple. Photo by Frank Ostrander.

July 09, 2011

The newly-refurbished steeple topping St. John's Episcopal Church on Clinton Street in Cornwall is all copper. Frank Ostrander took a shot of it in the morning, with the steeple surrounded by trees.

Click on the photo for a larger view.



Comments:
Beautiful photo. Thanks for posting. The new steeple looks great.
Add a Comment:
Please signup or login to add a comment.