People: New Police Chief Settles In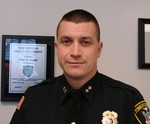 Chief Todd Hazard

March 07, 2007

He's been on the job for barely three days and Cornwall police chief Todd Hazard says that he is still getting to know everyone in the department and throughout Town Hall.

Judging by his experience in the New Windsor police department, where he most recently served as director of the Orange County Police Chiefs' Police Academy, Chief Hazard brings strong organizational skills to his new position. He left the department with the rank of 1st sergeant and was responsible for areas including scheduling and traffic safety.

Ironically, Hazard, 39, came close to joining the Cornwall police department 19 years ago. He was a student of criminal justice at Orange County Community College when he applied for police work in Cornwall and in New Windsor. On the day of his scheduled interview in Cornwall, a snowstorm cancelled the meeting. Before he could set up a new appointment, he was offered a position in New Windsor. The rest is history.

A resident of Cornwall for 14 years, Hazard says that Cornwall is a great community and he believes he can make a bigger difference here than in New Windsor.

"You can try to help the community more because the call volume is lower," he says. "There is more time for community policing, interacting with the community or stopping in at the stores on Main Street."

Hazard says he doesn't have any serious areas of concern in Cornwall, although he intends to focus on school safety with local administrators.

He has three children at Willow Avenue Elementary School and has been part of the Cornwall scene since moving here from Middletown, where he grew up. His wife, Debra, graduated from Cornwall Central High School.

He went up to Syracuse when the Cornwall football team was in the state finals last year and he says he was "shocked" by how many people from Cornwall went all the way up there. It was that sense of community that helped shape his decision to apply for the position of town police chief.

Hazard says he wants to ensure professionalism in the department. He also wants openness and says that if Cornwall residents would like to reach him with a concern, they can send an email to

[email protected]

.




Comments:
Add a Comment:
Please signup or login to add a comment.