People: Village Resident Examines Why We Go to War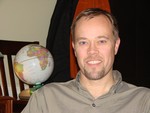 Scott Silverstone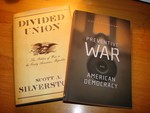 Silverstone's books study war and democracy

February 27, 2007

Scott Silverstone was listening to President Bush address cadets at West Point in 2002 when he got an idea for a book. An associate professor of international relations and U.S. foreign policy at the United States Military Academy, Silverstone heard the President say that America wasn't going to wait for its enemies to attack but would crush them first.

Silverstone says that Bush was articulating the concept of preventive war, a norm that had been largely disavowed by American policymakers since before the second world war. But this time, hardly anyone inside government questioned the president's reasoning and Silverstone decided to look into what had changed.

The result of his investigations, in which he combed through hundreds of government documents, is a book published this month by Cornell Press,

Preventive War and American Democracy

.

The book delves into the debate within several U.S. presidential administrations from Truman and Eisenhower to Kennedy and Johnson in which the idea of a pre-emptive strike against one's enemy was discussed then put aside.

Silverstone finds that policymakers once saw the move as raw aggression and contrary to the American character. That thinking started to change during the Clinton administration, which weighed making a pre-emptive strike against North Korea and dismissed it for tactical reasons alone.

"We have put the preventive war norm behind us in Iraq," Silverstone says and now Americans can debate the impact of this shift. "Things aren't going well in Iraq," he notes, "so what are the implications for using a preventive attack in Iran and North Korea?"



Preventive War and American Democracy

is Silverstone's second book in three years. His first volume,

Divided Union: The Politics of War in the Early American Republic

, was based on the thesis he wrote to attain his PhD from the University of Pennsylvania.

Silverstone, who once worked for the Chief of Naval Operations at the Pentagon, moved to the village of Cornwall-on-Hudson with his wife, Lisa and two children when he was hired by West Point. He's looking forward to a sabbatical next year and is already playing with his next book, a historical novel with, you guessed it, a war-related theme.




Comments:
Add a Comment:
Please signup or login to add a comment.