The Mirror Fence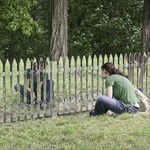 Reflection. Photo by Mel Kleiman.

June 21, 2011

Photographer Mel Kleiman took this photo of the Mirror Fence at Storm King Art Center. The fence creator, artist Alyson Shotz, gave a special tour of her pieces at the art center this weekend.

Click on the photo for a larger view.



Comments:
Add a Comment:
Please signup or login to add a comment.