Eagle & the Red Wing Blackbird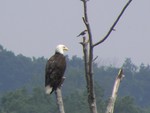 Eagle and the Little Bird. Photos by Maureen Moore.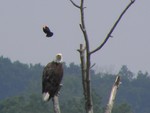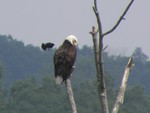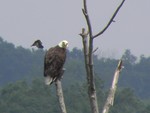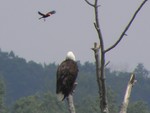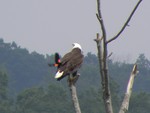 Eagle and the Red Wing Black Bird photos by Maureen Moore.

June 13, 2011

Maureen Moore took these photos last week and writes:

"I couldn't make this stuff up if I tried. I was checking on the eagles nest today and spotted one of the nesting eagles in a tree. I watched as this little bird (a red wind blackbird) flew around the eagle almost in an attempt to annoy it. While watching this little bird I thought either this bird is very brave or a little crazy. I have a feeling they may be friends judging by the lack of reaction from the eagle. Enjoy."

Click on any photo for a larger view.




Comments:
Go here...
http://www.ustream.tv/decoraheagles
...for a 24/7 live streaming view of an eagle's nest in Decorah, Iowa. The chicks are about to fledge any minute now. There were three, I've recently only seen two, but the third may be back in the nest rather than on the branch.
Add a Comment:
Please signup or login to add a comment.