Goslings on Parade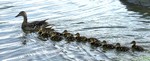 A duck and her goslings. Photo by Kathy Eastwood.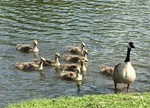 A goose leads the way for the brood. Photo by Kathy Eastwood.

May 26, 2011

Kathy Eastwood, a Cornwall-on-Hudson resident, was at Ring's Pond on Tuesday when she saw a duck and her 12 ducklings swimming and a Canadian Goose leading her eight goslings out of the water. Luckily she had her camera in the car and sends in these shots.

Click on either photo for a larger view.




Comments:
Add a Comment:
Please signup or login to add a comment.