Trestle on a Rainy Afternoon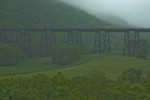 Trestle on a Rainy Afternoon. Photo by Tom Doyle.

May 17, 2011

Photographer Tom Doyle writes that he went out yesterday afternoon in spite of the rain and stopped at Jackson Avenue and Orrs Mill. Road. The rain softened the valley and trestle while the western part of Mountain was shrouded in mist.

Click on the photo for a larger view.



Comments:
Tom:Great shot.....thanks for sharing. Sometimes we just don't appreciate all the elements of a rainy afternoon right in our own backyard. Barbara Gosda
Add a Comment:
Please signup or login to add a comment.