The Valley in Spring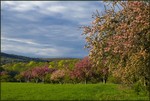 The Valley in Spring. Photo by Tom Doyle.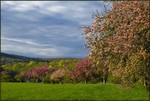 The Valley in Spring. Photo by Tom Doyle.

May 04, 2011

Photographer Tom Doyle writes:

"The longer I'm here, the more convinced that the Moodna Valley is as beautiful as any place I've been to. I went to the Valley this morning because I had been looking at the soft colors of spring this week and wanted to try to capture them. I had not been to the Valley for about ten days but I know that the blossoms would be out and that the surrounding hills would have the pale yellow green of the new leaves. These colors pass too quickly.

As usual, I went early and waited for the sun. There were some clouds but they opened and lit the foreground and some of the hills while others stayed in shadow."

After reviewing his work and adjusting shadows and hues, Tom came up with two versions of the photos. He knows which one he prefers.

Do readers have a preference? If so, leave a comment here -- and don't forget your name!

Click on either image for a larger view.




Comments:
Add a Comment:
Please signup or login to add a comment.