History: The Shot Heard Round the World and in Cornwall Too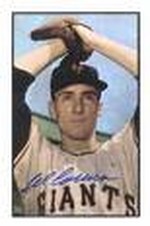 Corwin played five seasons for the Giants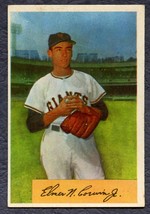 Elmer Corwin was born in Newburgh

February 12, 2007

By Warren Mumford
The news spread like wildfire through the Willow Avenue neighborhood. Al Corwin was pitching on the playground behind the school. By the time we arrived, the workout was in full swing. My buddies and I were then 7- and 8-year-olds and gathered in awe about 100 feet to the side. We could hardly believe these lightning bolts from Al's hand could be caught. But Al's major league friend with the catcher's mitt seemed to have no trouble handling the 90 m.p.h. pitches.

We knew that Al lived in the house next to the school on Willow Avenue and that he pitched for the New York Giants, but we rarely got a chance to see him throw in Cornwall. These workouts in the 1950's were a real treat to us aspiring little leaguers.

Although there have been some pretty good ballplayers from Cornwall, few, if any, have achieved fame on the field like Al Corwin. Called up by the NY Giants in July, 1951, in his first win he shut out the Cubs, 2-0, with Willie Mays, another rookie, playing the field.

Corwin was a central figure in the Giants famed drive for the pennant that year. Down by 13 and a half games in August, this team went on a tear to catch the Brooklyn Dodgers on the last day of the season. They beat the Dodgers in a dramatic playoff game via Bobby Thompson's ninth inning walk-off home run, the "shot heard round the world." As a rookie, Al was 5 and 1 during that phenomenal pennant drive.

Al Corwin played with the Giants from 1951 through 1955, compiling an overall major league record of 18 and 10 with a lifetime ERA of 3.98. He also achieved limited fame as a hitter, slamming the second of three consecutive home runs on September 4,1953, versus the Dodgers. Wes Westrum and Whitey Lockman hit the first and third homers.

These memories are quite personal. The Corwins lived around the corner from our home on Rose Hill Park during the 50's. Besides watching Al work out a few times at the Willow Avenue School, I remember that his sister, Dawn Marie, came over frequently to visit my older sister, Terry. I was too young back then to fully appreciate how good a ballplayer Al actually was. Now, however, I look back fondly and marvel at those memories of a major leaguer who lived in my Cornwall neighborhood.


For more info on Al Corwin visit www.baseball-reference.com and www.baseballlibrary.com/ballplayers.




Comments:
Add a Comment:
Please signup or login to add a comment.