White Barn at Dawn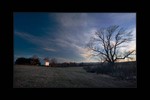 White Barn at Dawn. Photo by Tom Doyle.

April 04, 2011

Two of the techniques that Tom Doyle teaches his students of landscape photography is 1. getting up early and 2. waiting. Tom put both of these techniques to good use during the last week of March when he went to the Moodna before dawn and waited for the light. He took this image of a white barn in the Valley when the first light lit up the east side of the barn.

Click on the image for a larger view.



Comments:
Add a Comment:
Please signup or login to add a comment.