Storm King Mountain Ice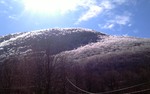 Ice on the Mountain. Photo by Bernadette Montana.

March 07, 2011

Bernadette Montana took this photo of the ice-covered slopes of Storm King Mountain on Monday morning.

Click on the image for a larger view.



Comments:
Add a Comment:
Please signup or login to add a comment.