On Stage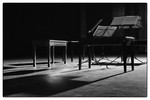 On Stage. Photo by Mel Kleiman.

March 03, 2011

Mel Kleiman took this black-and-white photo at the end of a chamber music concert held recently at Orange County Community College.

Click on the photo for a larger view.



Comments:
Add a Comment:
Please signup or login to add a comment.