Deer in My Back Yard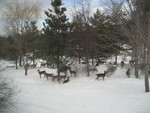 Deer in My Back Yard. Photo by Carol Stein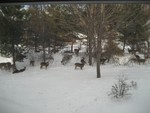 Deer in My Back Yard. Photo by Carol Stein

February 08, 2011

Carol Stein recently took this photo of a deer herd that frequents the back yard of her home off Union Avenue in Cornwall. She writes: "Today we counted 52 deer camped in our yards. Here is a representative picture. I really need a panoramic shot. Even that wouldn't do it as they were on three sides of the house, relatively close together though. It's crazy. I used to have a family of seven or so, lately it has been around 20 and now 50!

Click on the image for a larger view.



Comments:
I wonder how much trouble it would be to get hold of some of those wolves that are doing so well out west?
Add a Comment:
Please signup or login to add a comment.