WInd Sculpture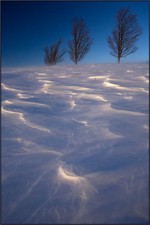 WInd Sculpture. Photo by Tom Doyle.

January 02, 2011



Tom Doyle took this photo on December 22, 2010. Here's what he says about it:

"I went to the Moodna Valley late this afternoon. The sun was near the horizon and the wind was blowing hard from the west. As I walked (waded through) the knee deep snow, I was struck by the wind sculpted snow on the hillside. I made this image shooting at 90 degrees to the now very low sun; the angle of the light displayed the curving contours of the sculpted snow."




Click on the photo for a larger view.




Comments:
Add a Comment:
Please signup or login to add a comment.