December Rainbow - Hockney Style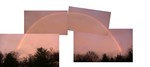 December Rainbow- Hockney Style by Ross Miller.

December 01, 2010

After a day of lashing wind and rain, the skies cleared around 4 pm and a rainbow appeared. New Windsor photographer Ross Miller stepped outside and took photos of the rainbow, then arranged the photos to create what he calls "December Rainbow -- Hockney-Style," a reference to the British painter who often deconstructed images in his paintings.

Click on the image for a larger view.



Comments:
Add a Comment:
Please signup or login to add a comment.