Morning Fog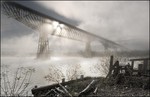 Morning Fog. Photo by Mel Kleiman.

November 19, 2010

In this photo, Mel Kleiman captured the morning fog beneath the railroad bridge over the Hudson in Poughkeepsie.

Click on the image for a larger view.



Comments:
Very nice picture Mel.
Nice work!!!
Add a Comment:
Please signup or login to add a comment.