Traces of Cornwall's Past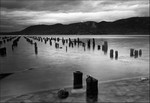 Waiting for the Ferry. Photo by Mel Kleiman.

September 29, 2010

Mel Kleiman took this photo of the remains of the old coal dock at low tide on the Hudson River at Cornwall Landing.

Click on the image for a larger view.




Comments:
Add a Comment:
Please signup or login to add a comment.