Full Moon Over Cornwall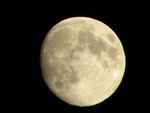 Full Moon Over Cornwall. Photo by Maureen Moore.

September 21, 2010

Maureen Moore took this photo of the full morning on September 20th.

She writes: "There was a beautiful full moon over Cornwall tonight. I was really out to look at Jupiter because it is closer to the earth right now, but the moon kept stealing my attention."

Click on the photo for a larger view.



Comments:
Magnificent! I could see how it stole the show over Jupiter! Was it taken through a telescope? Absolutely beautiful!
Add a Comment:
Please signup or login to add a comment.