Sailbow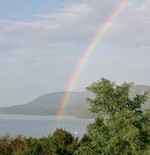 Sailbow. Photo by Karen Schaack.

September 14, 2010

Karen Schaack took this photo of a rainbow arcing over a sailboat on the Hudson.

Click on the photo for a larger view.



Comments:
Beautiful shot! Reminds me of the good things that I miss about COH - including so many good people!
I love this picture!!!
Add a Comment:
Please signup or login to add a comment.