More Strange Things Float By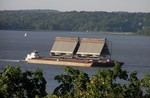 More Strange Things. Photo by Frank Ostrander.

July 19, 2010

Frank Ostrander took this photo on Sunday afternoon and writes: "Five days ago it was the Willis Avenue Bridge... Now this. I guess it's becoming popular to float large objects down the Hudson. Any guesses as to what it is?"

Click on the image for a larger view.




Comments:
Add a Comment:
Please signup or login to add a comment.