Victoria's Secret?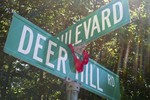 Photo by Julia D. Lawrence.

June 01, 2010



Photographer Julia Dominguez Lawrence was passing by the intersection of Deer Hill Road and Boulevard on Memorial Day where she took this photo with her mobile phone and asked "Victoria's Secret?




Click on the photo for a larger view.




Comments:
some poor lass is wandering about without her heinie floss
Add a Comment:
Please signup or login to add a comment.