The H.M.S. Bounty Sails South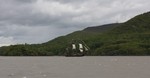 The H.M.S. Bounty sails south. Photo by Karen Schaack.

April 28, 2010

Karen Schaack took this photo of the replica of the H.M.S. Bounty ship that had dropped anchor in Newburgh during the weekend for the public to take tours and to meet some pirates, too.

Click on the image for a larger view.




Comments:
Add a Comment:
Please signup or login to add a comment.