H.M.S. Bounty & Pirates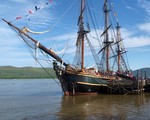 The H.M.S. Bounty. Photo by Phil Hopp.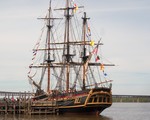 The H.M.S. Bounty. Photo by Phil Hopp.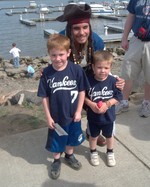 Cameron and Jayden meet the pirate, Jack Sparrow.

April 26, 2010

Phil Hopp took his grandchildren, Cameron and Jayden, to see the replica of the H.M.S. Bounty, the ship that was created for the 1962 film of the book Mutiny on the Bounty. The ship was anchored this weekend in Newburgh and open to the public for tours.

The 18th-century ship replica also was used in the film Pirates of the Caribbean and an actor portraying the legendary pirate Jack Sparrow was on hand to meet some of the children who visited the H.M.S. Bounty.

Click on any image for a larger view.





Comments:
Actually, the guy in the Jack Sparrow costume is not an actor. He just dressed like that for the pirate costume contest and won first prize for Jack Sparrow look-alike. I should know since he is my husband. Anyway, he was very happy that the children seemed to enjoy getting their picture taken with him.
Add a Comment:
Please signup or login to add a comment.