The Landing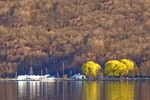 The Landing. Photo by Tom Doyle.

April 12, 2010

Tom Doyle writes that he made this shot from Plum Point about 6 pm on the evening of April 1st. He notes that the side lighting really emphasized the colors of the willows and the side of Storm King in the background. The budding trees give a nice texture to the background.

Click on the photo for a larger view.





Comments:
Add a Comment:
Please signup or login to add a comment.