Key Food Lament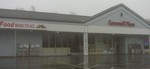 Photo by Bob Langston.

April 06, 2010

Bob Langston took this photo last week when the Key Food Marketplace in Cornwall Plaza finally went dark. He wrote: ""A dark day today while driving by Key Foods - I'm already missing it!"



Comments:
Add a Comment:
Please signup or login to add a comment.