The Sun Comes Out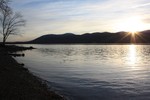 Morning Rays. Photo by Karen Schaack.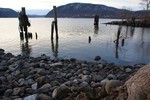 COH in the Distance. Photo by Karen Schaack.

March 17, 2010

Karen Schaack took these photos at the riverfront on Tuesday morning, when the sun finally appeared after several days of cold, heavy rains.

The top photo shows the morning rays peaking over Mount Beacon. The second photo is a view of the village of Cornwall-on-Hudson taken from the waterfront in Newburgh.

Click on either photo for a larger view.




Comments:
Add a Comment:
Please signup or login to add a comment.