Winter Lines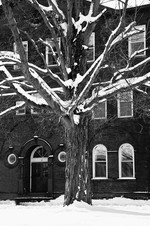 WInter Lines. Photo by Mel Kleiman.

February 12, 2010

Mel Kleiman took this photo of a tree in front of the Cornwall Central School District office on Idlewild Avenue in Cornwall-on-Hudson.

Mel writes that photography is a great excuse to get out on a winter's morning.

Click on the photo for a larger view.





Comments:
Add a Comment:
Please signup or login to add a comment.