Birch Trees in Winter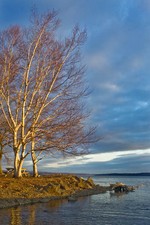 Birch Trees in Winter. Photo by Tom Doyle.

January 27, 2010

Photographer Tom Doyle writes about how he took this photograph of birch trees along the west bank of the Hudson RIver.

"I looked at early - saw that the eastern sky had some openings in the clouds, then checked the tide table and saw that high tide coincided with sun up. Decided to have my second cup of coffee at Cornwall Landing to see what the light looked like.

This shot was taken just as the sun lit the birch trees. You can see the shadow from the south bank of the stream on the north bank so the sun had just topped Mt Taurus.

Anyway - I like the light on the birch trees. The color of the trees the color of the sky complement one another. Enjoy"

Click on the photo for a larger view.



Comments:
What a glorious photograph. I hope you won't mind, Tom, that I'm printing it out and taping to the wall above my desk (where I'm working on HISTORIC SAN ANTONIO ARCHITECTURE! Your picture makes me realize how much I miss Cornwall-On-Hudson!
Add a Comment:
Please signup or login to add a comment.