Abby Goes to California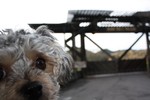 Abby Goes to California. Photo by Karen Schaack.

January 27, 2010

Karen Schaack reports that her pooch Abby just got back from another exciting cross country road trip out to California and up the coast to Oregan before coming back to Cornwall.
Abby is sharing her trip on Facebook under "Abby Schaack."



Comments:
Add a Comment:
Please signup or login to add a comment.