Sugar Coating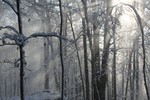 Sugar Coating by Rebecca Darlington Townsend.

December 07, 2009

Rebecca Darlington Townsend took this photo of the woods on the day after the season's first snowfall. She calls the photo Sugar Coating.

Click on the image for a larger view.




Comments:
Just stunning to look at! Should be your holiday card...with a few boys pasted on! HO HO HO!
Add a Comment:
Please signup or login to add a comment.