RIverfront Gazebo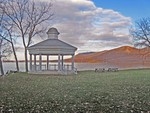 Riverfront Gazebo. Photo by Mike Lug.

November 23, 2009

Mike Lug took this photo of the gazebo at Donahue Memorial Park with the autumn hills of Beacon in the distance.

Click on the photo for a larger view.



Comments:
Add a Comment:
Please signup or login to add a comment.