2009 Girls Varsity Volleyball Team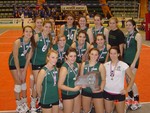 2009 Cornwall Varsity Volleyball Team.

November 23, 2009

The Cornwall varsity volleyball team took second place in the New York state high school volleyball championship games on Sunday.

The dynamo team came into the finals having won the Section 9 Class A Championship title for the fifth year in a row on November 9th. The team successfully moved through the playoffs, defeating Fox Lane and Vestal before knocking off Burnt Hills and splitting with East Hampton in the final four. The team's only loss on Saturday was to Victor, which took the state title on Sunday, when it defeated the Lady Dragons in the finals.

Here's the team players with their Second Place plaque in a photo taken by Kristine Williams.

Front L to R: Elizabeth Sidoti; Julia Anderson; Michaela Coons; Gina Greco
Middle L to R: Lora Rinaldi; Rachel Zsido; Valerie Ubriaco; Nicole Tagiaferro; Samantha Catalanotto
Top L to R: Brianna Byrd; Olivia Jebb; Alexandra Gagliano; Caitlin Fay; Lauren Williams; Kristen Hoerup; Justine Duryea

Click on the photo for a larger view.



Comments:
Add a Comment:
Please signup or login to add a comment.