Young Artists on Exhibit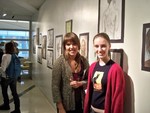 Kaija Hazirjian and Kayla Noble with some of their artwork. Photo by Jaci Canning Murphy.

November 23, 2009

Jaci Canning Murphy took this photo at Cornwall high school during the opening of an art exhibit featuring the work of two Cornwall high school seniors, Kaija Hazirjian and Kayla Noble. The exhibit is currently hanging in the gallery near the main entrance of the high school.

Click on the photo for a larger view.



Comments:
Add a Comment:
Please signup or login to add a comment.