Storm King Mountain in Autumn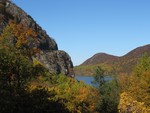 Storm King Mountain. Photo by Michael Lug.

November 10, 2009

A computer tech, village police officer and photographer, Michael Lug took this photo of Storm King Mountain from the low point of Route 218 on October 25, 2009.

Click on the photo for a larger view.




Comments:
amazing colors, Mike, and a breathtaking angle, too
Add a Comment:
Please signup or login to add a comment.