Storm in the Highlands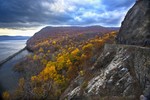 Storm in the Highlands. Photo by Tom Doyle.

November 06, 2009

Tom Doyle took this photo from Storm King Mountain, looking south along Route 218.

He writes: "Was heading south on Route 218 on Monday about 3:30 in the afternoon and as I went downhill south of the overlook, the clove between Storm King and Crow's Nest came into view. The trees were yellow, gold and various other warm hues. The sun was low in the sky and the light was streaming through the clove, backlighting the trees, the light was as good as it gets.

I decided to return Tuesday afternoon, find a good vantage point and get that shot. I went back Tuesday about 3, found a spot and waited for the sun to light up the trees. Then the clouds rolled in. Attached is the shot with a stormy sky, I like it almost as much as the sunlit scene."

Click on the photo for a larger view.



Comments:
That's a stunningly beautiful shot. Well done!!!
Tom, what kind of lens were you using? the texture of the rock in the foreground against the trees in the background is incredible. It looks sort of foreshortened because of the depth. very cool.
Add a Comment:
Please signup or login to add a comment.