Fall Photos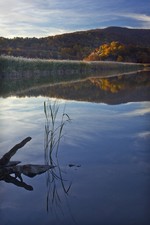 Last Light by Tom Doyle.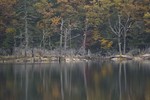 Reflection 1 by Tom Doyle.

October 29, 2009

Tom Doyle has been out and about photographing during the past week and shares two of his favorite shots.

He writes:


"Attached are two images, one taken in Black Rock Forest the other taken in the Iona Island Marsh.

Reflection 1 was taken early on an overcast morning, hence the muted colors, the breeze stopped for about ten minutes letting me shoot a series of reflection shots using a long lens to isolate various parts of the opposite shore.

Last Light was shot from the south end of the Marsh (Snake Hole Creek) looking north. The sun was getting very low and filmy clouds were forming. I framed the shot with the grass in the foreground hoping that the light would not fail completely. Just before the sun went behind the mountains, it broke through and lit the hill on the right side. Two minutes later the light was gone.

I believe that the essence of landscape photography is this - when I'm fortunate enough to witness extraordinary beauty, I try to capture that fleeting beauty that will never happen again. One of the things that I must deal with is that, most of the time I fail, either I do not see that lovely moment or my ability is limited and I miss my chance.

I feel strongly about those few times when everything works. When I went to the Marsh, I had no idea what I would find - but I went and I hoped. Occasionally I see the image that I had in you mind, more frequently I see something that I did not imagine - that's even more beautiful."


Click on either photo for a larger view.





Comments:
"Last Light" is just beautiful! I find myself looking at it again and again.
I totally agree with your thoughts on landscape photography. I also find that some of my best shots happen when I find myself having to wait someplace for something and I amuse myself by taking pictures. Opportunities present themselves often, but one has to slow down enough to see them.
Add a Comment:
Please signup or login to add a comment.