Fall Reflections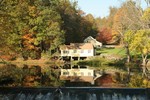 Reflection in Fall. Photo by Maureen Moore.

October 21, 2009

Maureen Moore took this photgraph on Tuesday of the Moodna Creek at the dam near Route 32 and Orrs Mills Road.

Click on the photo for a larger view.



Comments:
Add a Comment:
Please signup or login to add a comment.