General Petraeus Meets the Boy Scouts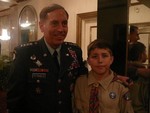 General Petraeus and Brendan Fitzgerald.

October 10, 2009



On Thursday, General David Petraeus returned to his hometown and made a stop at the dinner honoring the boy scouts that was being held at Pier Nine. This photo was taken of the general with whose grandfather writes:


"Proud moment.

Last night my Grandson Brendan gave a speech before 200 guests at a dinner honoring General Petraeus at Pier Nine. He presented the general with an lifetime membership in Cub scout Pack 6. This is the same pack that the General belong to growing up in Cornwall.

Petraeus told Brendan that he was a better public speaker than he was. He also gave a medal of excellence coin to Brendan. I was a proud grandpa."

Click on the photo for a larger view.




Comments:
Add a Comment:
Please signup or login to add a comment.