Washington Monument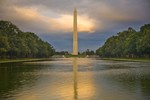 Washington Monument. Photo by Tom Doyle.

September 27, 2009

Tom Doyle sent in another photo, this one of the Washington Monument.

He writes:
"I was in Washington, D.C. recently, where I went to the Lincoln Memorial end of the reflection pool and took this shot of the Washington Monument.

The weather was cloudy and the light was very flat but I decided to set up at the edge of the pool and wait. It was 5:30 when I framed this shot and took some sample shots hoping that the clouds might open a bit. A little after 6:30 the sky started to open and I got the attached about 10 minutes later when the clouds behind the Monument started to glow. I think its a keeper, Enjoy."

Click on the photo for a larger view.



Comments:
Tom, This is a beautiful shot -- well done! ~Heather
Great shot Tom!
Of all your beautiful photos, this one in extraordinary! A keeper in my album, thank you!
Add a Comment:
Please signup or login to add a comment.