Journey & Moodna Dawn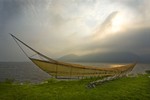 Journey. Photo by Tom Doyle.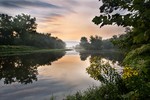 Moodna Dawn. Photo by Tom Doyle.

September 01, 2009

Tm Doyle sends in two recent photos he took, both of which is part of an exhibit of his work now hanging at Painter's Tavern at 366 Hudson Street in Cornwall-on-Hudson.

He had this to say about the two new photos: " I was moved to try to shoot Journey after seeing Wynn Gold's shot of the sculpture earlier this month, the lines formed by the 'canoe' are very graceful and lead the viewer into the pic. Moodna dawn was taken early Wenesday morning from the north bank of Moodna Creek looking toward the Hudson, the tide had just peaked and the sun was still behind the Mountains on the east shore."



Comments:
"Moodna Dawn" is exceptional!
I had never thought of that area as a place of extreme beauty. Obviously, I was uninformed.
Don't forget to see Tom's upcoming show at Painters, starting Sunday Sept 6th.
Add a Comment:
Please signup or login to add a comment.