Serpentine & Moodna Trestle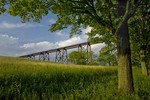 Bridge to the Clouds by Tom Doyle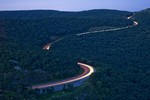 Serpentine by Tom Doyle

August 10, 2009



Tom Doyle writes about how he took these recent photos:

"The night time road shot of Rt. 9W was taken last Wednesday night from the Butter Hill summit of Storm King and required a five minute shutter speed. The image has been flipped horizontally to move the leading line of lights to the lower left. I went to the top of Butter Hill late in the day to get a moon-rise shot from that spot; that didn't work out, so I took the road shot."

"Attached is a recent shot of the Trestle. The basis for the composition of the shot is the diagonals formed by the shadow in the foreground, the hillside in mid-ground, the trestle and the tree line. I had to go to the location several times before I was able to shoot it with a nice sky."


Comments:
Add a Comment:
Please signup or login to add a comment.