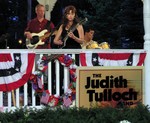 Photo by Frank Ostrander.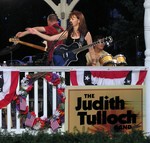 Photo by Frank Ostrander.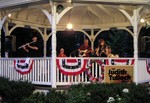 The Judith Tulloch Band. Photo by Frank Ostrander.

July 29, 2009

Another HOOOO-Hum performance....the difference betweeen a good performer and a great one - diction...being able to understand the vocalist...Judith you CAN NOT..

And what is with the rowdy kids running around what a PIA




The Judith Tulloch Band is one of Orange county's gems on the original music scene. They are a tight, groovy, original (pop?) band that plays a few unusual covers. Judith's song writing and poetry are beautiful and some of her words hit me right where I live. Their performances all over Orange, Sullivan, Ulster and Dutchess counties always entertain ans satisfy. Last week, for instance, at the country's 2nd largest hot-air balloon festival in Readington, NJ the Judith Tulloch Band performed marvelously while opening up for Michael McDonald on the big stage.

Keep up the good work Judith, Steve and company.




Well said Peter!

Regarding the other comment... I feel sorry for the author that he can't appreciate good music when he hears it (and can't tolerate children having a little fun).