Scarlet Tanager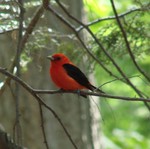 Photo by Nancy Peckenham

July 15, 2009

The scarlet tanager can be found in the woodlands of the Northeast in the late spring and early summer where it usually lives in the high treetops.

This brightly colored male wandered to the lower branches of a tree on Storm King Mountain recently where photographer Nancy Peckenham took this photo. Now is the time to look for the tanager. By late summer it is headed south to its winter home in South America.

Click on the photo for a larger view.



Comments:
I also saw a tanager in Black Rock Forest (Sackett Trail) last week.
Add a Comment:
Please signup or login to add a comment.