Groundhog Day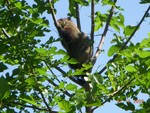 Photo by Hilary Vallet.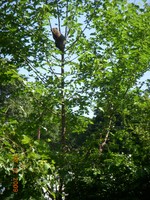 Photo by Hilary Vallet.

July 15, 2009

Most people have seen a groundhog scurry into its underground den, but have you ever seen one climb a tree?

Well, Cornwall-on-Hudson resident Hilary Vallet took these two photos of the so-called Homeland Avenue neighborhood groundhog in her backyard on Paula Court. Hilary says that she never realized that groundhogs can climb trees.

Click on either photo for a larger view.





Comments:
As I was surprised to find out at a Museum of the Hudson Highlands exhibit on squirels, Groundhog/Woodchucks a members of the Squirel Family. They have been seen for years grazing on the tender leaves on the top of the weeping Mulberry in front to the visitors center at the Outdoor Discovery Center.
Add a Comment:
Please signup or login to add a comment.