Slow Views of the Riverfront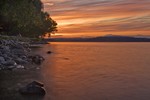 Sunset on Cornwall Bay. Photo by Tom Doyle.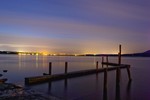 The Landing at Night. Photo by Tom Doyle.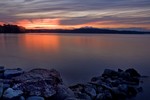 Summer Twilight on Cornwall Bay. Photo by Tom Doyle.

July 10, 2009

Tom Doyle went down to the Hudson River at Cornwall Landing on Monday night, expecting to wait for the full moon to rise. While waiting, he set up his camera and tripod and took these long exposure shots.

The first photo was taken with the camera shutter open for two seconds; the second one captured the scene with the shutter left open for eight seconds.

In the third shot, taken when night had fallen (but still with no moon), Doyle left the shutter open for a full ten minutes.


Click on any photo for a larger view.




Comments:
These photos reveal a beauty that is hidden from us in plain sight!
Thanks Tom for sharing!
Thanks for all the wondreful pictures of our beautiful home.I have not been ther in over 20 years and the water is welling in my eyes.I've been all over this country,including living in Arizona,but to me the Hudson valley is the most beautiful place on Earth.Thanx again!
Add a Comment:
Please signup or login to add a comment.