Gazebo Weather Vane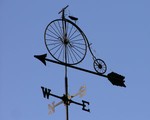 Gazebo Weather Vane. Photo by Frank Ostrander.

June 01, 2009

Frank Ostrander took this photo on Sunday evening of the weather vane atop the village gazebo. It never looked so beautiful.



Click on the image for a larger view.





Comments:
Wait, didn't I see the WWW on that thing a minute ago?
Add a Comment:
Please signup or login to add a comment.