Ripples in the Pond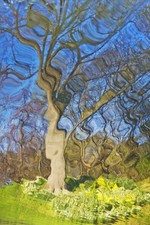 Ripples in a Pond. Photo by Tom Doyle.

May 03, 2009

Tom Doyle sends in this unusual image with a note: "Out early last Sunday - went to a pond to shoot some reflection shots - the surface quickly went from glassy smooth to very rippled - was going to leave but then looked at the pond's surface and saw the attached- no digital distortion, this is what the surface looked like - a very different looking world."

Click on the image for a larger view.



Comments:
Add a Comment:
Please signup or login to add a comment.