Clouds Clearing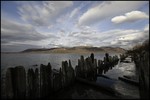 Clearing Clouds by Mel Kleiman.

April 26, 2009

Mel Kleiman was down at the shores of the Hudson River last week after a rain storm when he took this photo.




Click on the image for a larger view.





Comments:
Great Photo !!
Great picture! Hope you show this one at the town hall show.
Add a Comment:
Please signup or login to add a comment.