Daybreak on the Hudson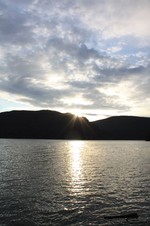 Daybreak on the Hudson. Photo by Karen Schaack.

April 17, 2009

Karen Schaack took this photo Wednesday morning as the sun peeked over the Hudson Highlands near Beacon and beamed across the Hudson River towards Cornwall-on-Hudson.

Click on the photo for a larger view.





Comments:
Add a Comment:
Please signup or login to add a comment.